as you may have noticed, i woke up this morning feeling the need to make some changes. so i started with my blog template. after a year and a half of the same old template, i decided that my blog needs a fresh look. and i also decided to change my profile pic. i did this several times before sticking with the one you see here. it may change again soon. i have several pretty good ones. i might also change my facebook picture, even though i really dig the one i have on there now. nicole calls it a sex kitten picture.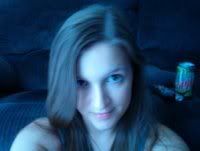 i don't know about that. i took it sitting in front of my couch while wearing absolutely no makeup. can one be a sex kitten without makeup?
anyway, i am also planning to start seriously decorating my house. as soon as i find the time. damn, i'm going to be busy for the next month. see, i'm still dealing with the damn DEP in florida. i
still
haven't gotten that last permit that i need. and half the stupid DEP quit. and they switched our permit application from the panama city office to the pensacola office without telling anyone. anyway, we're meeting with those idiots tuesday to straighten this business out. then next weekend it's off to port st. joe with me to set up two field experiments. and i have prep work and data analysis from maine and spain. my spain presentation is october 27 (same day as the pilots home opener). i'm also taking the motorboat operator class at DISL so i can learn to drive a boat... and back a trailer. that's in the middle of the month.
ooh, i ordered almost 250 prints of pictures from maine and spain, so nessa and deva, you guys will have lots of photos to peruse when i see you guys again. i've got a ton on shutterfly, too. between the two trips, there are nearly 1000 photos total. we pooled all of our pictures, so i have access to everyone's, not just mine.
ok, that's enough for this morning. hope you guys dig the new template.