wow...it was quite a busy weekend, starting with friday the 13th. first, i woke up at 6 am and headed for my mom's house, so we could go to my little sis's field day together. sammi was quite excited to see us there, and she introduced me to the friends of hers i didn't already know. she kicked ass in the relay where they had to jump rope and hula hoop (she's been practicing the hula hoop thing with me). she's the most talented jump roper in the 5th grade (or maybe i'm a little biased - but some of those kids couldn't jump rope at all). i was the acting bank for my mom and a couple of my sister's friends (they didn't want to hold their own money while doing various field day events), so when they had breaks for snacks and popsicles they had to get money from me. there was one period when the 5th graders weren't scheduled for any events, so i played on the playground with sammi for a while. we slid on the slide, swang on the swings, and see-sawed on the see-saw (where i whacked my leg just above the knee and obtained a very purple bruise). mom and i were going to eat lunch at school with sammi, but we decided that the cafeteria food wasn't for us and went out to the sandwich deli in century instead...but we made it back in time to watch the rest of the field day events. after it was over, we checked sammi out and i hung out with them at mom's house for a couple of hours before heading back to mobile.
vanessa crashed at our place friday night, and deva came over to join us for fondue and drinks. she provided the cinematic entertainment for the evening (
meet the fockers
- very funny). well, before we could have fondue and drinks, a shopping trip had to happen (because this is a grocery week for me and chad...we have next to nothing in our kitchen), so we went out to super target (they have nice produce) to buy chocolate and various other ingredients and dippers for our dessert fondue. then, it was off to deva's apartment to pick up a shaker for our sour apple martinis followed by a trip to the liquor store for some malibu and happy vodka (we just liked the bottle. i'm keeping it 'cause it's cute).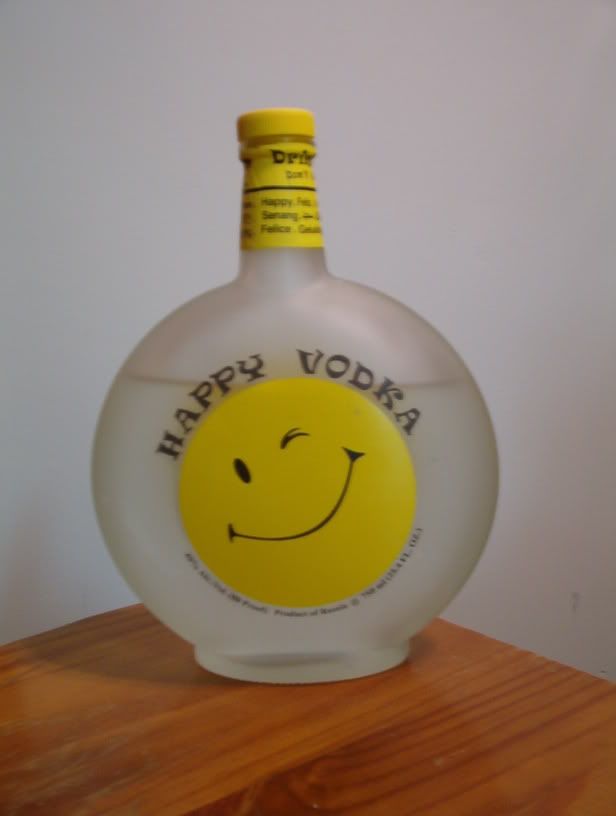 the movie was funny, the fondue was yummy (even if we did lose some strawberries and shortcake in the chocolate), as were our girlie drinks. then, it was bedtime, as we were making an early start for new orleans on saturday.
saturday morning it was up at 6 am and out the door at 7, on the way to the big easy. we arrived at the audubon zoo shortly after it opened, and we were all pleased with scenery, along with the many animals. the renovations worked out well for the zoo...it's very pretty. here is an example of the nice landscape between exhibits.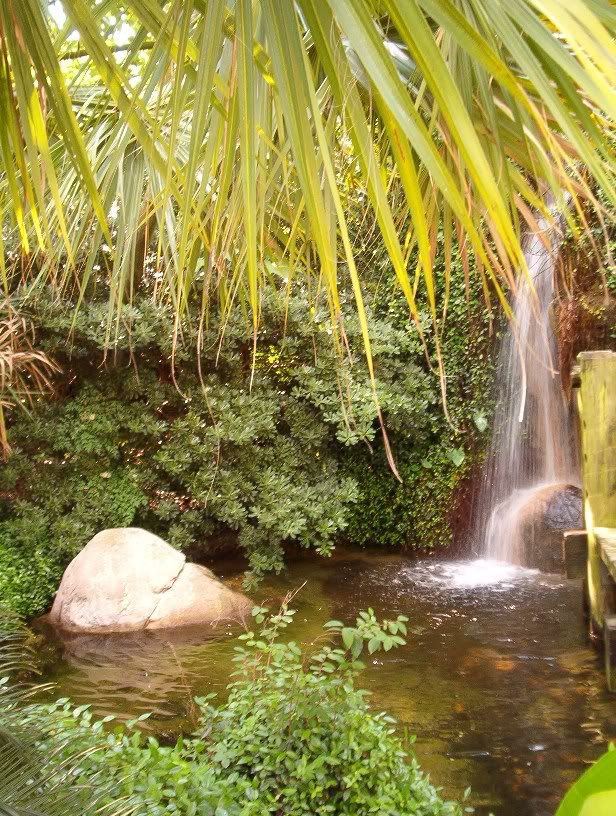 of course, we were also entertained by some very amusing animals, although most were being kind of lazy. here were some of the more awe-inspiring animal displays.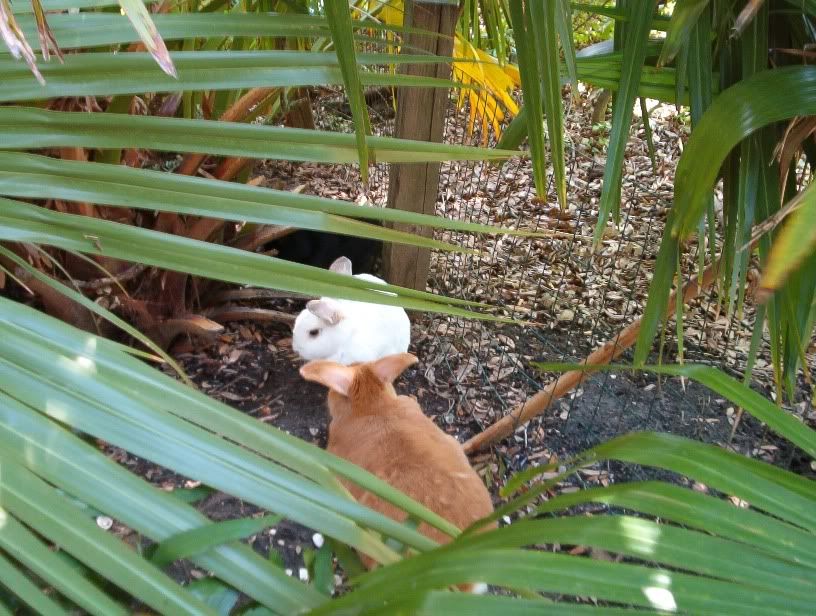 some really fat bunnies, hiding in the trees.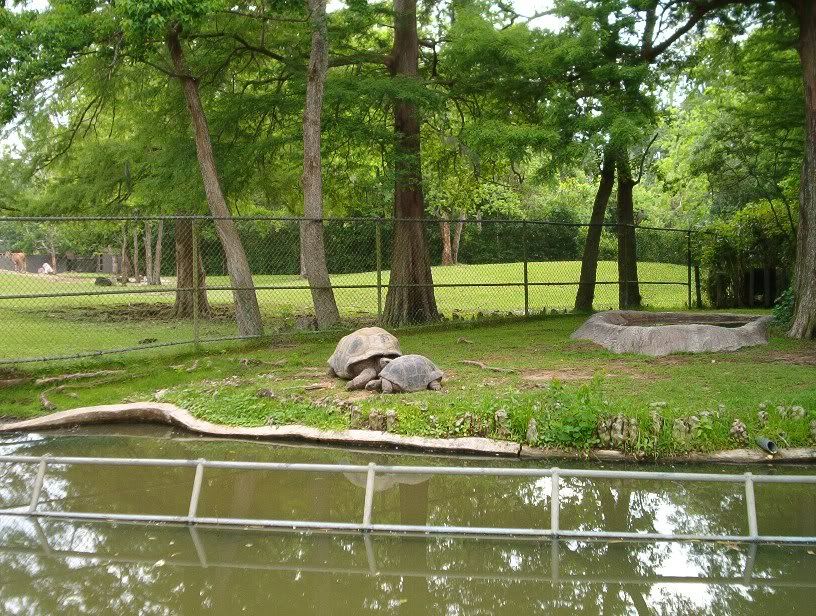 the most ginormous tortoises i have ever seen in my life. notice their size in comparison with the surrouding trees (which are pretty big, too).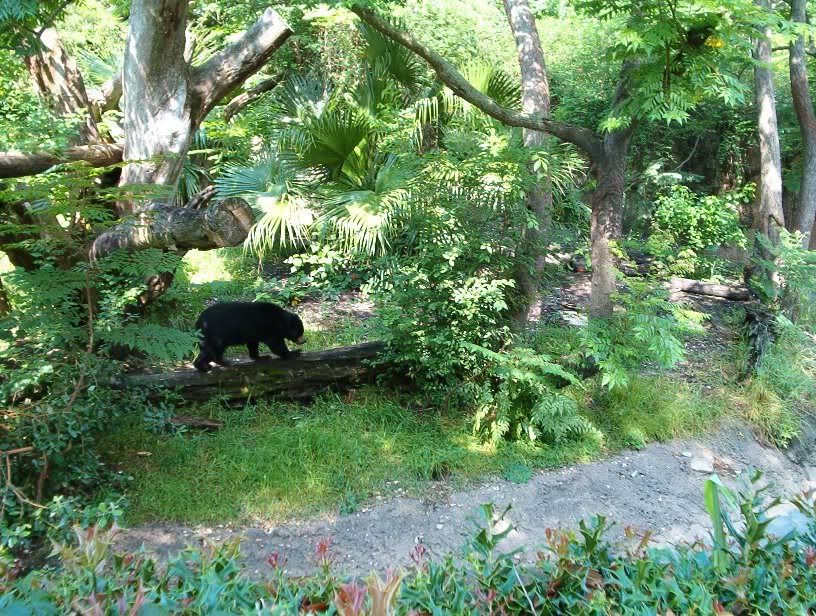 a neurotic bear cub. he appeared to be having a bit of a panic attack, rapidly pacing back and forth along this log.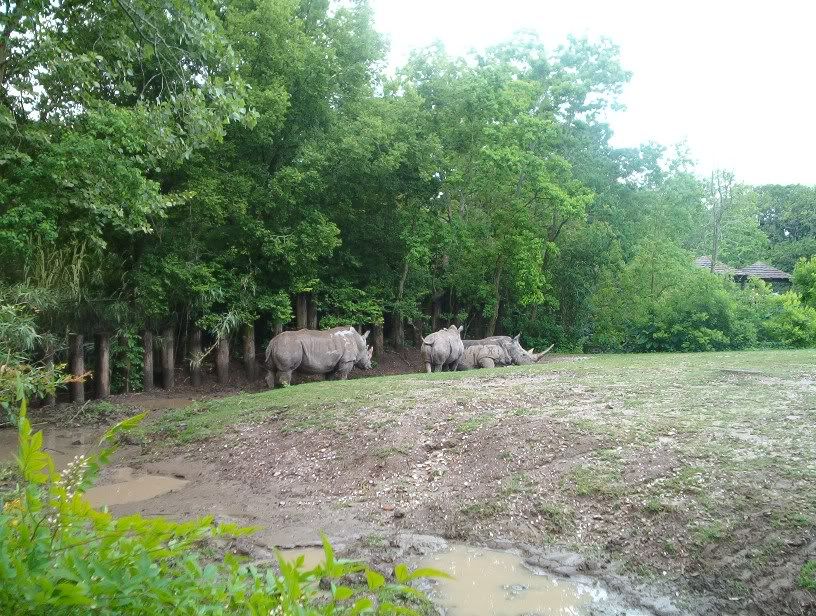 a nice group of rhinos...i also liked the hippo, but it was submerged - not conducive to taking its picture.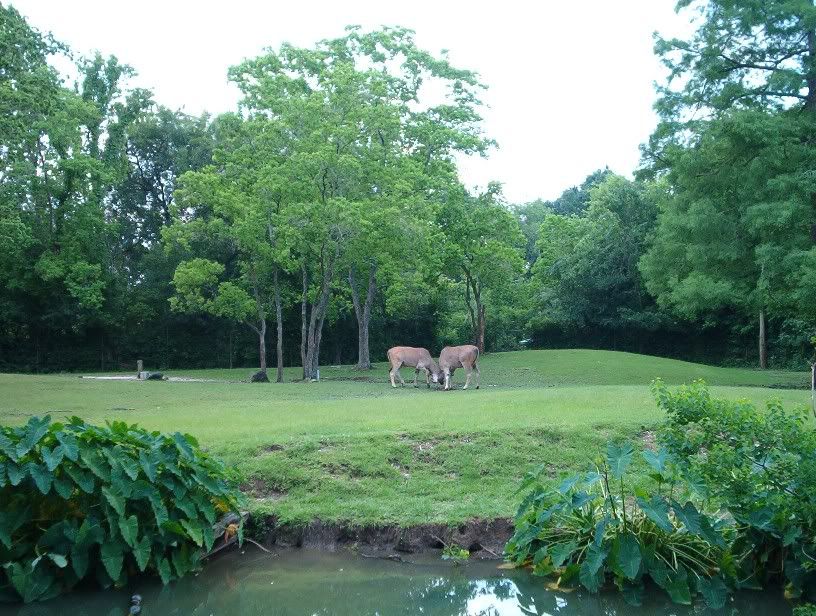 a couple of wildebeasts butting heads. they are
much
larger in life than they appear on the discovery channel when they're being taken down by lions and crocs.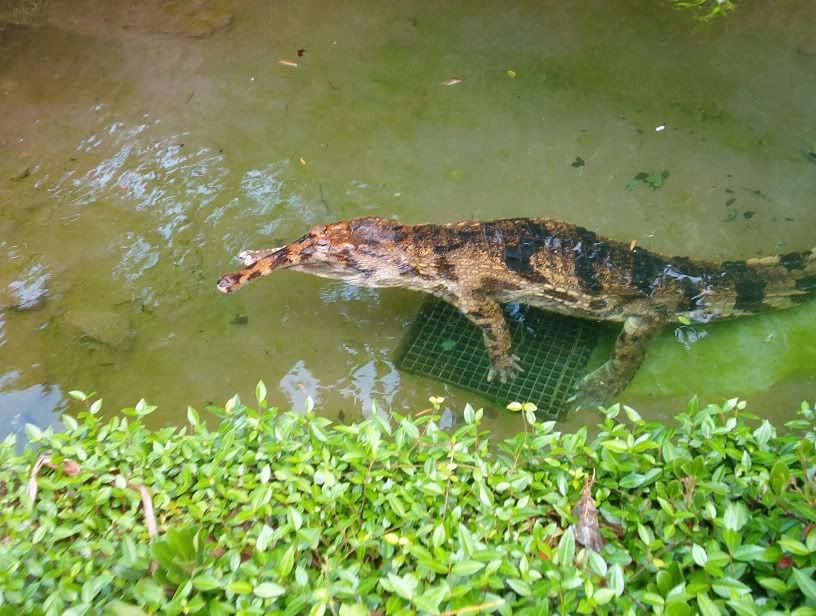 these things tend to freak me out, so i try not to get too close, but i had to post this. it's the weirdest looking croc i've ever seen. i have to wonder if its mouth is supposed to be crossed over like that, or if something is wrong with it so that it can't close its mouth properly.
after about 4 hours in the zoo, we took the free zoo shuttle to the street car stop on st. charles where we hopped on the street car and headed for the french quarter. it was my first time on the street car, and it was nice...much easier than navigating downtown new orleans by car. we exited the street car near bourbon street, which we of course took a walk down. after much walking, we ended up at jimmy buffet's margaritaville cafe, where we wolfed down some much-needed cheeseburgers in paradise. and then...some more walking. along the riverwalk, by the house of blues, into the bubba gump shrimp co. gift shop, through jackson square. we had some good photo ops around town. here are a couple of my favorites.
i got this one right after we stepped off the street car. i turned around and saw that we were surrounded by tall buildings. it looked pretty cool.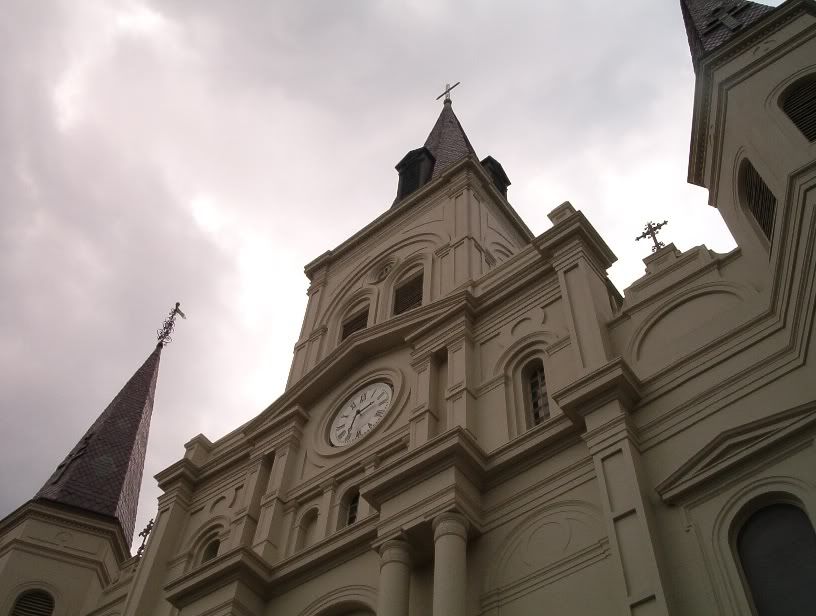 this is probably my favorite shot from the whole trip. we were standing at the bottom of this huge church, looking up at it.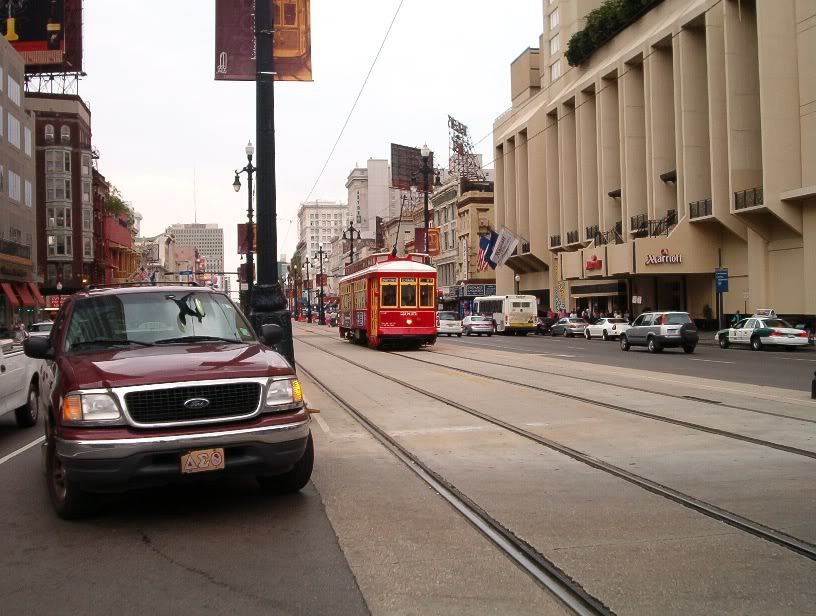 i had to get a shot of a street car, even though we took a green one, not one of these red ones that runs downtown.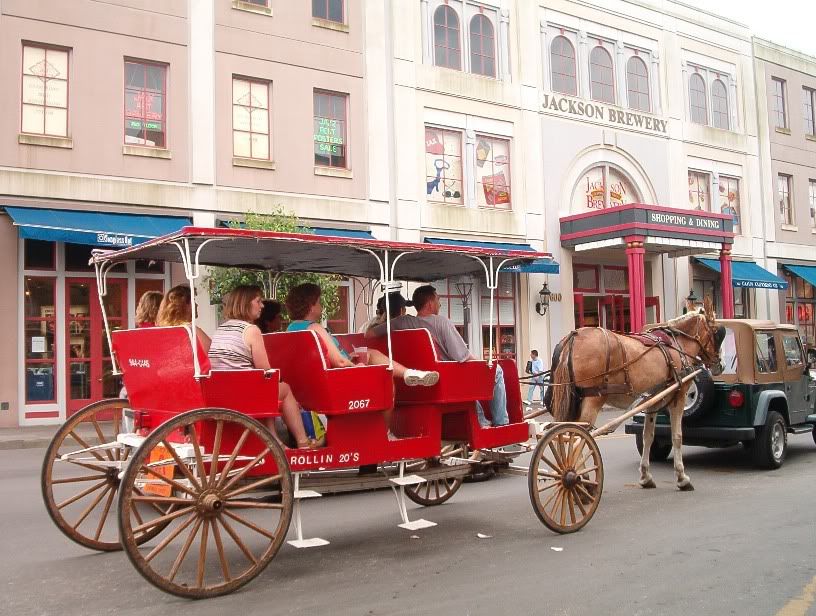 i like this one, too. it's funny, with the horse and buggy traveling in the street with the cars. it makes me want to take a carriage ride through new orleans. maybe next time.
after touring downtown, looking like the tourists that we were, we hopped the street car back to the audubon park, which we took a walk through on the way back to the car...then, home again.
yesterday was chad's and my first anniversary. we took it easy after our busy day on saturday. we decided not to do big gifts (i pretty much go ahead buy anything i really want, anyway), just cards and dinner. we went to zea's. it's pretty nice. i like the decor, even though it's mostly in black...the light fixtures, the seats, menus, napkins (cloth ones), half the walls (the top half is a marbled beige). the food was quite tasty, and you get a lot for the money. i ordered the garlic and herb glazed chicken with roasted potatoes and sugar snap beans. yummy. chad had barbequed chicken. also yummy. they give you half a chicken (rotisserie style). there's no way i could finish all that, so i also have lunch for today. yeah, we decided not to go for the pricey prime rib (it was more than twice the price of half a chicken). chad pointed out that the first zea was opened in new orleans (it was in a blurb on the menu), so we had a very louisiana-style weedend. another nice thing about zea...they have drink specials every day. yesterday was bloody mary's (yuck) and screwdrivers...but we just had sweet tea. then, after dinner, it was back home for some year-old (still slightly frozen, since i waited kind of late to thaw it out) wedding cake.
like i said, quite an eventful weekend.