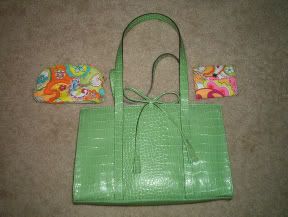 this is my new liz claiborne purse. i love it. i love that it is green...i've been feeling very green lately. just ask deva...i had to get her to not let me buy anything green yesterday. after i'd bought lots of green stuff...green was like a latina-magnet yesterday. deva and i went outlet shopping in destin yesterday, and i found this little gem at the liz claiborne outlet...for $35. much better than original $60 price tag. i was also looking for a small makeup bag to keep in my purse, which this lovely bag came equipped with, taking care of that little item on my shopping list. not that i really had a shopping list...just a bunch of stuff i saw and said, "i must have you. you're comin' with me."
anyway, we had a great girls' day...lots of good shopping. lunch at the hard rock cafe after a trip to the boat sales and storage place that wyland painted...it's very impressive. see?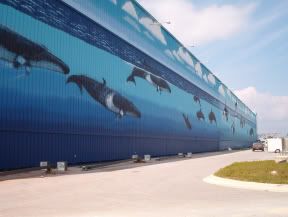 it's so big...very awesome. the entire building is painted. good stuff. anyway, lunch at the hard rock...then, more great shopping at destin commons, which was a new experience for us since we were both a little drunk from the hard rock hurricanes we consumed with lunch. they're very tasty, btw. i didn't buy anything green at the commons. but i did buy lots of stuff...then, a trip to the wyland gallery, where deva and i admired lots of good art that we'll never be able to afford. and i bought a coffee mug, not like i need another coffee mug. and after the wyland gallery...the beach, of course. the water was cold. the sand was nice. i played like a little kid...and i found a tiny bulldozer.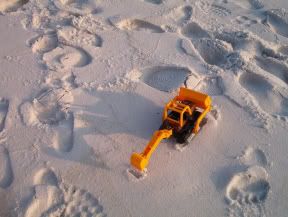 i left it at the beach, though. let some little kid come and take it home.
like i said, it was a great day.